Shipping Policies
---
Legal Requirements
You must be 21 years of age or older, to order or receive alcoholic beverages from Thomas T Thomas Vineyards. Receipt of shipments containing alcoholic beverages requires the signature of a sober adult (a person 21 years of age or older who is not intoxicated). Wines purchased from Thomas T Thomas Vineyards are not for resale, and are for personal consumption only.
States Authorized for Direct Shipment
Currently, we are able to ship to the following states highlighted below. From time to time and depending on each state's liquor laws, we may add or subtract states that we can ship our wines to: AZ, CA, CO, DC, FL, IL, NC, NV, NY, OH, PA, TX, VA, WA.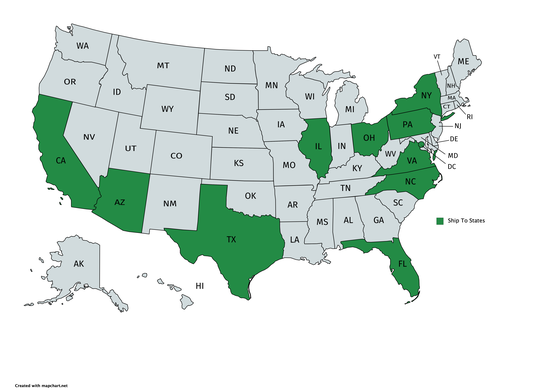 Credit Card Charges
Orders are by credit and debit cards only. We accept Visa, MasterCard, Discover, and American Express.
Minimum Purchase
No minimum purchase is required.
Shipping Costs
UPS Ground is Thomas T Thomas Vineyards' carrier of choice. Ground shipping is provided by UPS Ground at current market rates with the exception of those states that are required to use UPS 3 Day options (this is being done to reduce the probability of wine spoilage).
Wine is a Delicate Commodity
Wine is a perishable commodity. Wine does not like extremes of temperature: hot humid summer and cold winter weather may adversely affect the condition of your wine during shipment. Thomas T Thomas Vineyards is not responsible for, and will not replace wine that is damaged by extreme weather conditions during shipment. When your wine order is picked up by the common carrier for delivery, responsibility for the wine becomes the responsibility of the purchaser.